Wednesday, January 14, 2009
The following report is from CNNPolitics.com
reported by Adam Levine
CNN
WASHINGTON (CNN)
-- President-elect Barack Obama, who campaigned on lessening lobbyist influence in government, has chosen a defense expert who is currently a vice president and lobbyist for one of the country's biggest defense contractors to be his deputy secretary of defense.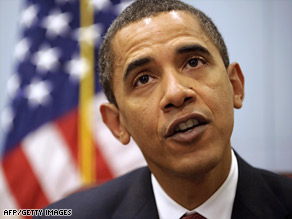 President-elect Barack Obama has chosen a defense expert and lobbyist for deputy secretary of defense.
Obama's transition office announced that William Lynn, an undersecretary of defense in President Bill Clinton's second term, has been nominated as Defense Secretary Robert Gates' deputy.
Lynn is currently a senior vice president at Raytheon, which has billions of dollars in Defense Department contracts and is the maker of the Army's Patriot Missile system and the Tomahawk missile used by the Navy. The company is also developing a global positioning satellite communication system with the Air Force.
As deputy secretary, Lynn would be involved in the process of budgeting and acquisitions, in addition to running the day-to-day operations of the Defense Department.
Obama's transition office acknowledged that appointing a
lobbyist
did not, on the face of it, seem in line with the president-elect's ethics stance but that Lynn's qualifications and the recommendations that came from both Republicans and Democrats made him the top candidate.
"Because Mr. Lynn came so highly recommended from experts across the political spectrum, the president-elect felt it was critical that he fill this position," said Obama transition spokesman Tommy Vietor.
Vietor said Lynn and the transition team would create guidelines that would fit the ethics standards of the new administration.
During his campaign,
Obama
took a hard stance against the influence of lobbyists in Washington. His campaign Web site included a promise that "no political appointees in an Obama-Biden administration will be permitted to work on regulations or contracts directly and substantially related to their prior employer for two years."
Creating that distance could be difficult given that
Gates
, who was appointed by President Bush, is making cutting the Pentagon budget a priority and Lynn would be involved at some level.
The announcement noted that Lynn's experience both in the public and private sector means he can make "the tough choices necessary to ensure that American tax dollars are spent wisely."
Lynn's supporters, including Sen. Jack Reed, R-Rhode Island, and Sen. Ted Kennedy, D-Massachusetts -- whom Lynn worked for on Capital Hill -- said in statements they support Lynn's candidacy.
"He's a proven leader in both the public and private sectors of the national security community and his previous service in the Department uniquely qualify him to help the Department run more efficiently and effectively," said Kennedy.
The transition office also announced other
Defense Department
nominations, including former Assistant Secretary of the Air Force Robert Hale for undersecretary of defense and Michele Flournoy, who was part of Obama's Pentagon transition team, for the undersecretary devoted to policy. Gates interviewed Lynn and the other appointments, according to the Pentagon spokesman.
"He interviewed each of them, came away impressed with their personal character and professional credentials, and recommended the president-elect hire them," said spokesman Geoff Morrell.