Thursday, August 13, 2009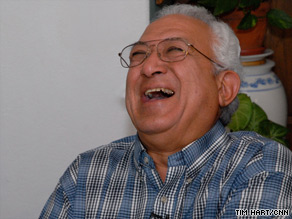 LOS ANGELES, California (CNN)
-- The insurance business was very good to Reynaldo Hernandez.
Reynaldo Hernandez is a retired insurance agent who says rising medical costs are causing him pain.

"I loved the business because it rewarded you for your effort. ... I liked the fact that selling insurance was helping people avoid financial loss," the California man says.
He sold insurance in the rural San Diego County town of Ramona for 35 years and retired eight years ago. Since then, he has grown increasingly angry at the business he represented.
And the industry he gave so much to is about to ruin him financially.
"Over the years of my career, I saw the coverage get more expensive, but you got less," says Hernandez.
In 2007, Hernandez, 65, and his wife Janet, 62, spent more than $15,000 on insurance premiums. Add a little more than $8,200 for co-payments and medicine, and Hernandez says they paid about $24, 000 in medical costs that year.
"It took a huge chunk of our income. ... over 25 percent that year."
So the man who sold insurance to so many people had to do without.
"I never thought, in my entire life, that I would ever get to the point that I, as an insurance agent, would ... have problems paying for medical insurance," he says.
"Health insurance for me has been so important. I would never dream of going without.
Don't Miss
"Because we could no longer afford that kind of cost, we did the unthinkable. We dropped our insurance," says Hernandez.

Watch the family's plight »
"It's a little scary not to ... go to the doctor when you think 'I should have his checked,' " says Janet Hernandez, Reynaldo's wife of 43 years.
"I didn't have proper coverage to be able to go to the doctor and get checked. Knowing that you could lose everything if something happened, that was scary."
Janet Hernandez knows quite a bit about the insurance industry, too. She worked with her husband as an agent for 10 years.
The Hernandezes now have medical insurance. Reynaldo has Medicare, the federal insurance program for senior citizens. But Janet is three years from qualifying for that program.
Until then, they have purchased a private policy to cover
medical
expenses.
But that policy is expensive.
"We pay about ... $850 a month on my insurance and co-pays on prescriptions and doctor visits," says Janet. "And still today, with ... higher deductibles every year ... still the cost keeps going up, up, up."
"At the rate it is going up... I may not be able to keep her covered until she turns 65," adds Reynaldo.
Those added costs have put a pinch on their retirement.
Although retired, Reynaldo is still a licensed insurance agent. "I'm thinking about trying to go back to work full time so that I can maybe get a group plan to cover my wife," he says.
"We had planned so many years for our retirement and to be able to do things, and travel," says Janet. " We've cut way back on most of our expenses and we just don't do the things we used to do because of the costs."

"Every day I'm looking at our checking account and our saving account and I've become obsessed with it because I see that we don't seem to have it under control," says Reynaldo. "And it's very scary. I shouldn't have to live in fear about our medical expenses."
"I feel very nervous and uneasy about that, and I shouldn't be. I shouldn't have to feel that way in my senior years. I should be able to feel secure."