Thursday, April 9, 2009
By Dan Lothian
CNN White House Correspondent
(CNN)
-- The White House is planning to start addressing the nation's immigration system as early as May, two senior administration officials said Thursday.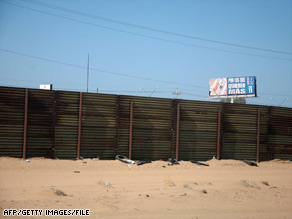 A fence separates the United States from Mexico
in the U.S. Border Patrol's Yuma Sector in
San Luis, Arizona.


President Obama will rely on a bipartisan, diverse group of experts to help build the framework for legislation, the officials said.
One official noted that immigration will not be "on the same track" as other key initiatives like health care and energy, and "nobody's promising legislation or a vote this year."
Meanwhile, the administration is dismissing suggestions that taking on immigration this year will put pressure on Obama's already ambitious domestic agenda.
Moving forward on immigration would fulfill another campaign promise. The president acknowledges that tackling this issue will be challenging.
Last month, at a town hall meeting in California,
Obama
said immigration is an "emotional" and "controversial" issue that "people get riled up politically about."
But he added, "People who have been here for a long time and put down roots here have to have some mechanisms over time to get out of the shadows."
immigration
legislation backed by President Bush, which would have increased funding and improved border security technology, improved enforcement of existing laws, and provided a legal path to citizenship for some illegal immigrants.
He also voted to authorize construction of a 700-mile fence along the U.S.-Mexican border.
Sen. Chuck Schumer, D-New York, said Thursday that Congress was willing to work with Obama on comprehensive immigration reform.
"We must solve the immigration issue and we can, even in these difficult economic times. I believe there is a real chance of passing comprehensive reform this year, and the Senate panel on immigration will begin a series of meetings and hearings later this month with an eye towards meeting that goal," said Schumer, the chairman of the Senate subcommittee on immigration, in a statement.