Thursday, April 9, 2009
April 8, 2009
Posted: 05:48 PM ET
From
CNN Ticker Producer Alexander Mooney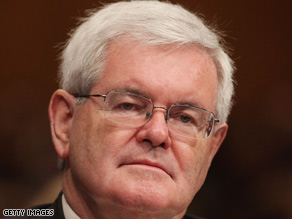 Gingrich says the Obama administration is 'anti religious'.
(CNN)
— Newt Gingrich said Tuesday the Obama administration is "intensely secular" and "anti-religious," the former House Speaker's second hard-hitting criticism of the new administration this week.
In an interview with FOX News, Gingrich said he strongly disagreed with Obama's choice of Harry Knox — an outspoken activist for gay rights — to the White House advisory council on faith-based initiatives.
"I think their goal is to have a very secular America in which government dominates everything," he said. "Why wouldn't you put an anti-religious, left-wing zealot on a faith-based group? It's a perfect pattern for this administration."
Since 2005, Knox has served as the director of the Human Rights Campaign, a national organization that advocates on behalf of lesbian, gay, bisexual and transgender individuals. He is also a former Methodist pastor.
Obama formally named Knox to the 25-member advisory council on Monday, a move that has not sat well with some Christian conservatives. The conservative Catholic League called him "unfit to serve," especially taking issue with Knox's recent comment characterizing Pope Benedict XVI as a "discredited leader" because of his opposition to gay marriage.
In a statement released earlier this week, Knox said, "The lesbian, gay, bisexual and transgender community is eager to help the administration achieve its goals around economic recovery and fighting poverty; fatherhood and healthy families; inter-religious dialogue; care for the environment; and global poverty, health and development."
But Gingrich said the Knox appointment, along with some other moves, proves the administration is trying to "go down in history as a consistently anti-religious, secular group of people who are consciously trying to drive things out."
Two days ago, Gingrich told Politico former Vice President Dick Cheney was "clearly right" when he asserted the Obama administration's national security policies have left the country more vulnerable to a terrorist attack.